New BMW M550i xDrive Sedan Paint Protection and Glass Treatment
This may look like many other BMWs on the road, but make no mistake, this M550i xDrive Sedan means business! This twin turbo V8 puts out 455 horsepower that it applies to the pavement via a 4 wheel xDrive system. All this equates to a stunning 0-60mph time of just 3.9 seconds. That is serious sports car speed in a large sized sedan that can transport 4 grown adults in the lap of luxury. Overall, a very impressive car. But enough about the specs, why is it here at Clear Bra Ohio?
The owner of this car planned in using this car extensively and wanted to protect the high wear areas from being damaged by rocks, insects, road debris and maybe even an errant golf bag or suitcase. To accomplish this, the client chose our PPF Kit C package that includes our signature paint protection film application to the full hood, full front fenders, full front bumper and mirrors. The client also wanted protection in the rear, so they added a full rear bumper installation as well. This protection will help reduce damage from loading items into the trunk as well as potential unskilled parallel parkers.
To begin this process, we fully decontaminate the painted surface with a wash and clay bar process. This ensures that all contaminants are removed before we apply the film. This is a critical step as you are sealing anything in the painted surface underneath the paint protection film. You want this to be as clean as possible.
Once decontaminated, we can begin the installation. Our goal with any installation is to provide the maximum coverage without compromising the look of the vehicle. To accomplish this, we typically install full panels with no seams and we wrap the edges whenever possible. This gives the appearance that the material is not even there as you cannot see any edges or seams. Check the gallery below to see pictures taken during the process.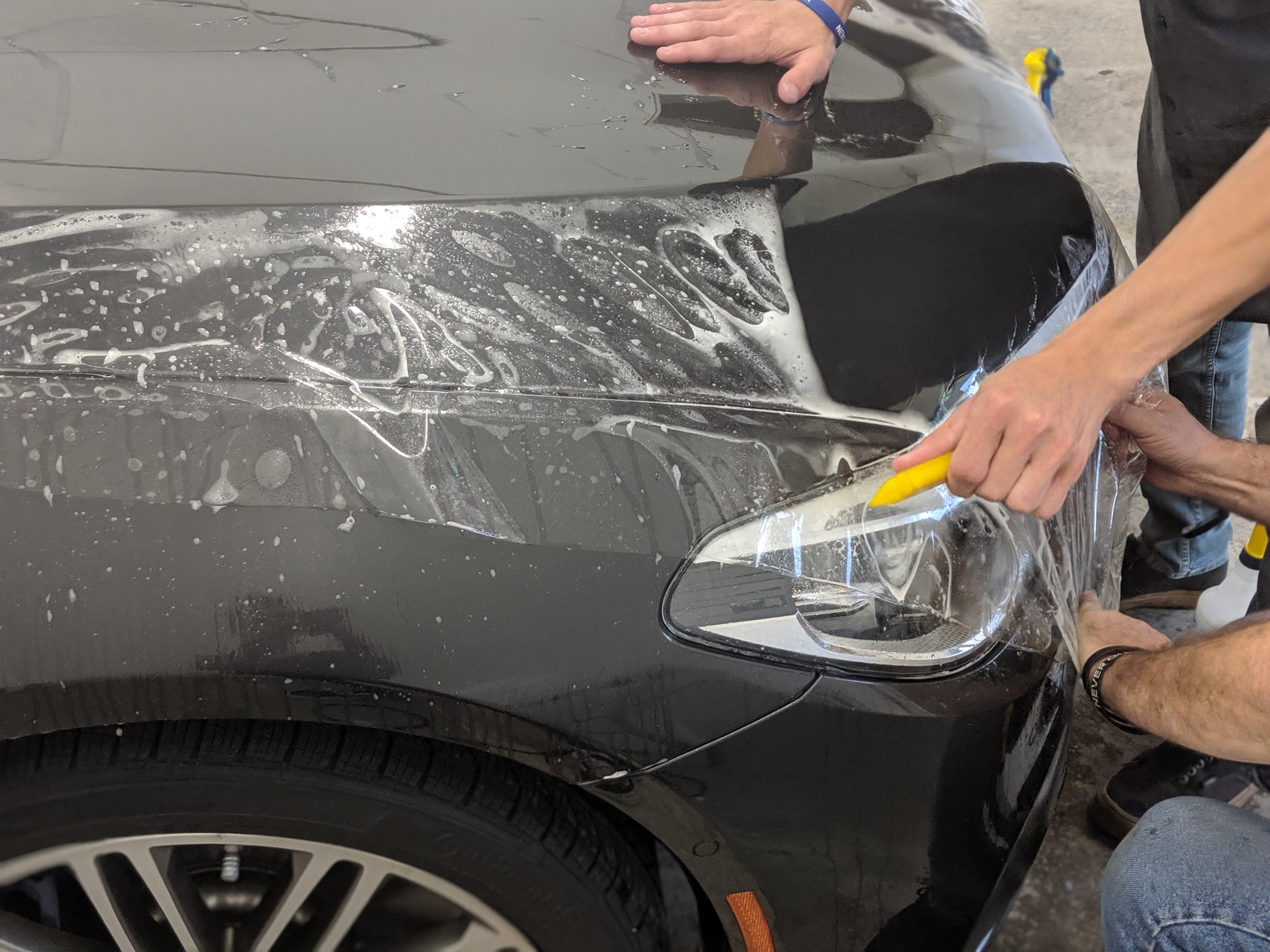 Once we finished with the clear bra application, we moved on to a GlassParency application to bring high performance to the windshield surface. GlassParency is the #1 choice of glass coatings. Unlike many wax-based or topical coatings, GlassParency is chemically engineered to react to silica within the glass, creating a bond unmatched by the competition for durability and water repellency.
With the car complete, you can only stand back and admire the finished product. We are fortunate to have such great clients that allow us to protect and enhance their vehicles.
If you have any questions, would like more information on the paint protection film and GlassParency services we offer, or would like to schedule an appointment, you can reach us at 513-580-8365. We look forward to hearing from you! Find out why Clear Bra Ohio is the #1 shop in southern Ohio for clear bra and paint correction as well as ceramic paint and glass coatings.